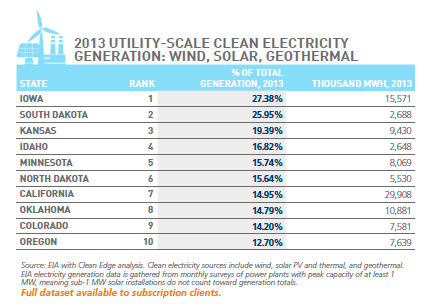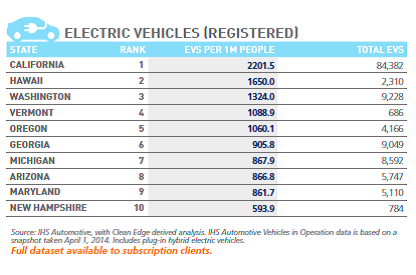 Clean Edge has released the results for its Clean Energy Leadership Index, comparing which states and major cities are leading the way in terms of clean energy technology usage.
Out of all the states, California was ranked first among all states by a "wide margin" according to the report. State performance was evaluated on the basis of technology development, availability of money for investments or "capital," and policies supporting clean energy initiatives. California also ranked first in the "technology" subcategory, as well as second to only Massachusetts in the categories of "capital" and "policy."
Rounding out the top ten in overall ranking for states were Massachusetts, Oregon, Colorado, New York, New Mexico, Washington, Illinois, Vermont and Connecticut.
Metropolitan areas were evaluated by the categories "green buildings," "advanced transportation," "clean energy and carbon management" and "clean tech investment, innovation and workforce."  San Francisco was ranked first overall among metropolitan areas. The rest of the top ten was as followed; San Jose, San Diego, Portland, Sacramento, Boston, Los Angeles, Washington, DC, Austin and Denver. Unsurprisingly, California leads with the cleanest cities given the states first-place status.
You can read the entire report here